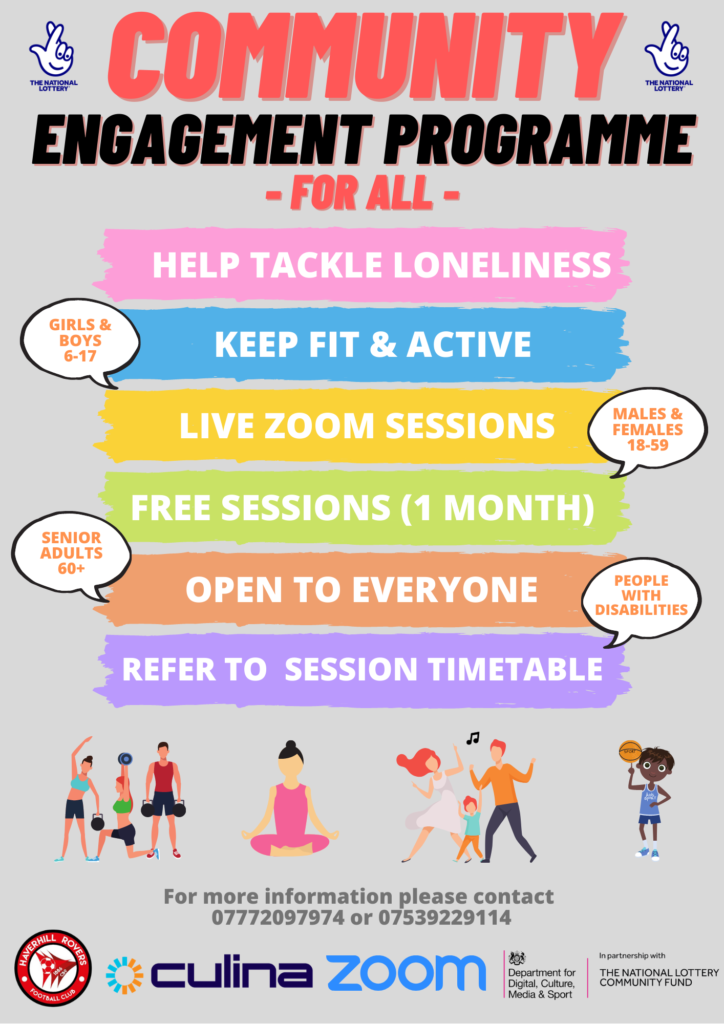 HAVERHILL ROVERS FC COMMUNITY ENGAGEMENT PROGRAMME FOR ALL
Haverhill Rovers FC are delighted to be working in partnership with the National Lottery Community Fund and the DCMS after accessing the local connections fund available to support reducing loneliness within our community.
The local connections fund is enabling Haverhill Rovers to extend its current community provision to support everyone within the local community tackle loneliness and providing a platform for all ages and genders to stay fit, active and engaged over a month period between February and March.
Haverhill Rovers FC will be working in partnership with some highly qualified local coaches, teachers, instructors and businesses as we look to provide online activities to strengthen our local community and ultimately improve people's lives at what is an extremely challenging time for all.
These online sessions will begin on Tuesday 9th February and be accessible via Zoom on smart phones, pads and laptops, the activities included will be Fitness, Yoga, Dance, Boxercise, Netball, Gymnastics and Health & Wellbeing activities. The sessions will be offered to the following people- Boys, Girls, Male Adults, Female Adults, Seniors (60+) and people with disabilities and further information on all our activities will be readily available via our website and social media channels.
Kayleigh Steed HCSA Football Development Officer added " This is a fantastic project to really engage people within Haverhill and the surrounding areas, it provides a free online service for people to stay fit, active and engaged at a time where many people are suffering nationwide through loneliness due to a lack of structured activity available. I would like to thank the local business community and some of the fantastic PT's, coaches and instructors that were really on board within wanting to put back into their community and improve peoples lives. I would politely like to emphasise these activities are for absolutely everyone within our community and not just the local footballing community. Finally I would like to thank the DCMS & National Lottery for their contribution towards this project and Haverhill Rovers for being forthcoming in want to lead the project, they are doing some incredible work for people in the Haverhill area and this once again emphasises that! I really hope everyone in Haverhill can access these activities and most importantly enjoys them"
For further information on the activities available which will all be conducted via zoom, please refer to the timetable on ???, we will also be providing regular updates via our website & social media platforms.
We look forward to seeing you all on these sessions in the coming weeks…….