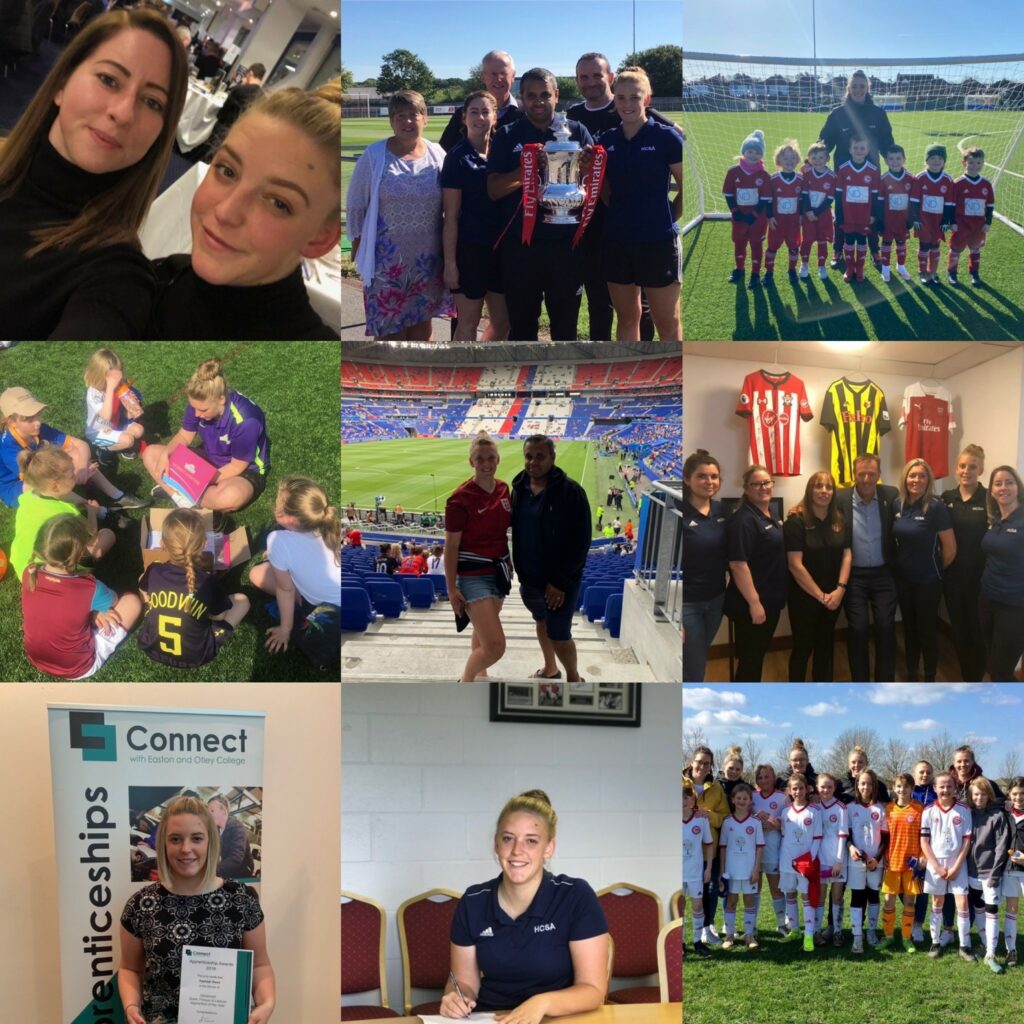 Goodbye and Good Luck Kayleigh Steed!!
Today we say goodbye to Kayleigh Steed as her time working at The New Croft as Facilities & Football development officer comes to an end.
Kayleigh will be taking a break from the world of football development and be continuing along a slight differently pathway within her career in a new position coaching at Cambridge United/Cambridge Regional College, it is a role which Kayleigh will no doubt flourish within.
Kayleigh in her role at The New Croft has balanced combing facility operations as well as football development unbelievably successfully over the past four and a bit year's. Everyone at The New Croft recognises that Kayleigh has had to deal with the less-nice elements around the site especially when supporting football operations and the challenges that Covid-19 has posed over the past year or so.
Kayleigh has always conducted her work with the highest regards for customer service and the integrity of the facility alongside the Haverhill footballing community which is something we are extremely grateful for.
Peter Betts The New Croft Facilities & Football Development Manager added " Kayleigh has been a joy to work with and I feel privileged to have developed such an excellent working relationship with her over the past few years were so much has been achieved, Kayleigh has taken every opportunity available to develop both herself and the people around her. There are too many standout achievements to mention when it comes to Kayleigh, she's won various individual awards over the past few years however in my opinion her largest achievement is the positive impact she's had on so many young people within our local area by engaging them into football activity. I am very proud of what Kayleigh has achieved here in her time and I am delighted she leaves to pastures new with an enhanced CV and experiences that will support her throughout the rest of her career"
Kayleigh Steed added "I want to say a big thank you to Pete and all the staff at The New Croft as well as Haverhill Rovers for supporting me throughout my time here. I have accomplished things I never thought were possible and this comes from the support and guidance that they have shown me.
I would like to wish all the Volunteer managers at Haverhill Rovers every success moving forwards with their teams and their own coaching journeys and a huge thank you to all the young players who have put a smile on my face every week. I will be starting a new chapter, however I won't be a stranger around the club."
Kayleigh as she mentions above will not be a stranger to The New Croft in the coming months as she will be continuing participating for Haverhill Rovers ladies as well as in her voluntary role at Haverhill Borough FC.
Kayleigh finishes having made an enormous impact within Haverhill and the local community area.
Thank you, Kayleigh!